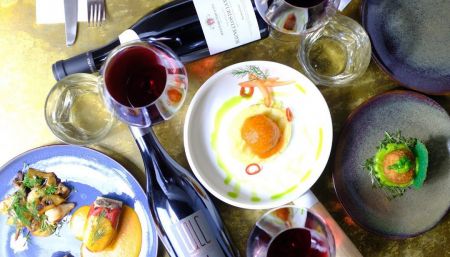 Restaurant 1123
Delicious tapas menu and rich wine list.
Restaurant 1123
Indre By
Delicious tapas menu and rich wine list.
Why you should dine here:
Delicious tapas menu with southern notes
You love a good glass of wine or two!
Wine bar with knowledge and flair for the origin and notes of the grapes
A local treasure chest
Go to a wine & gastro bar - with the best from the southern Osteria - in the Inner City and be drawn to a rich wine list, a sumptuous tapas dish and a warm-hearted hospitality.
The host takes you around the vinous treasures - are you for the fruity, dry or strong grapes, maybe something completely fourth, then there is guaranteed to be a bottle on the shelf that matches your wishes. You pay for what you drink, so enjoy that you can taste a sip, a glass or maybe a whole bottle of your favorite drops or try out several different wine districts.
Satisfy your hunger with the chef's exquisite tapas menu which raises the standard of the classic tapas experience. Restaurant 1123 serves an appetizing gastro menu with notes from the Mediterranean.
Completed concept hitter
There are words of praise to pick up on both Facebook and Tripadvisor:
"Lovely food, good wines that you only pay for in the amount you drink, as well as an attentive host. A terrific evening that can only be recommended"
"Simply fantastic tapas, wines and not least service"
"Really cozy place with great food and wine"
Atmospheric wine & gastro bar
The old town house from 1737 exudes charm, to which the square meters span several floors. The rustic decor complements the southern atmosphere of UG with beamed ceilings, stone floors, painted brick walls, wine barrels, candles and decorative details inspired by the south and the wine trade.
From the first floor there is a view of the King's Garden, and if you lean slightly over the iron railing, you can follow the dishes that flow out of the kitchen.