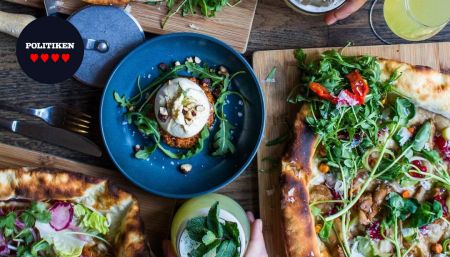 Neighbourhood Nørrebro
Quality pizzas and funky cocktails at the city's GO-TO pizza pusher, among Tripadvisor's top 10.
Neighbourhood Nørrebro
Nørrebro
Quality pizzas and funky cocktails at the city's GO-TO pizza pusher, among Tripadvisor's top 10.
Why you should dine here:
The city's funky GO-TO pizza and cocktail pusher
In the top 10 of 'Copenhagen's best reviewed pizza
You will hardly find a crisper pizza base anywhere else
Local and organic topping from the Nordics
Pizza with a twist
At Neighbourhood, the pizza base is both crisper and lighter than what other pizza places manage to create. Here, the dough is made from sourdough and has toppings from all over the world. Neighbourhood values ​​ecology, relationships and sustainability.
Eat toppings from local producers and organic farm products. Here the cheese is e.g. from Danish dairies, the bacon is from Southern Sweden, Karlsfälts Gård, and generally all products come from quality-conscious roasteries, breweries and farms.
Neighbourhood adapts to both the vegetarian or vegan audience. And serves a changing menu that is also pleasing to the eyes.
Fresh and smoking hot reviews
Over time, Neighbourhood has both received hearts in Politiken and has been voted "The city's best new restaurant" in Berlingske.
On Tripadvisor, Neighbourhood ranks in the top 10 best-reviewed pizzas in Copenhagen, for which the guest reviews read:
"The go-to place for good pizzas, delicious drinks and the best atmosphere in town"
"I have nothing but good things to say about the place!"
"They are super welcoming and super attentive even though the restaurant is busy and full!"
Pizza house with style and atmosphere
Neighbourhood in Nørrebro is a funky meeting point for good pizza fun, unique cocktails and new and close relationships that are created across the long tables. Sit at the high table or on the homemade benches.
The atmosphere is informal, but more vibrant Friday-Saturday, when the music builds to weekend vibes.