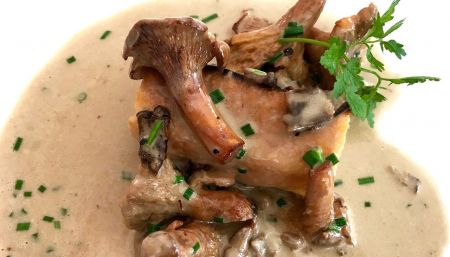 Le Caprice
Authentic French bistro dining.
Le Caprice
Indre By
Authentic French bistro dining.
Looking for a trip south of the border? - Everything here can quickly become a bit more exotic and exciting.
If you are into French charm, wine and the classic bistro kitchen, then you should make your way past Nansensgade, where you can easily, quickly - and far cheaper - take a few hours' stroll to a French suburb.
Visit the restaurant Le Caprice, which hides behind the rustic walls for an authentic restaurant experience. Here you will experience genuine hospitality and eye-catching staff - happy to share a story and guide you around delicate classics on both the plate and the glass.

Vincent Chabane is the owner and educated chef. He invites inside for a bite of France, and even shares some of his own favorites. Open up to a menu of French flavors.

Let the teeth run in water. The juicy steak and the catch of the day are sure winners from the menu, to which garnish in season also adorns the dish. In addition, there is an excellent selection of French cheeses, not to mention the round drops to be toasted. Le Capice has precisely these refined grapes, a larger selection of, most of them from the Mediterranean.

The rustic, French charm is evident in Le Caprice's atmospheric premises. You will encounter an authentic aura where Nordic elegance meets French charisma. Here is a naturally warm and relaxed atmosphere. There is room for larger parties and the room is divided into smaller rooms, hidden behind curtains and glass facades with French window sills.

The bright Nordic shades characterize the restaurant's décor. And the elegance of the well-covered tables, with tablecloth and shiny glass, stands well to the raw, rustic brick walls - some are painted white, others still stand in their natural charm. Sit back in the soft chairs and enjoy the food and ambiance, under atmospheric lighting and musical background tones.

If you need something for your money, book a table at Le Capice - the portions smell of quality, that have turned up the charm and the result is full and happy stomachs. Good appetite.