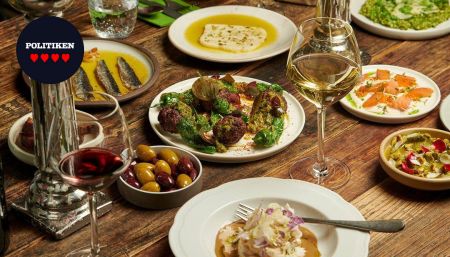 Deligreco
Top chef from Noma and Iluka serves comfort Mediterranean food and gets 4 hearts and stars.
Deligreco
Frederiksberg
Top chef from Noma and Iluka serves comfort Mediterranean food and gets 4 hearts and stars.
Why you should dine here:
Reviewed for 4 hearts & stars
Modern comfort food with Mediterranean flavors
Chef from Noma and top-reviewed Iluka
Restaurant and wine bar: Northern Europe's largest Greek wine list
Former Noma and Iluka chef serves comfort food
Martin Steininger has both worked as a chef at Noma and was sous chef and right-hand man to the head chef at the acclaimed fish and seafood restaurant Iluka in the inner city.
He is now the new head chef at Deligreco and is recognized for his modern comfort food. He fuses simplicity and elegance to ug, infused with umami.
Steininger provides classic and simple flavors from the Greek islands and Mediterranean destinations that you often dream of. Enjoy 6 or 8 sharing-friendly dishes. Eat e.g. juicy mint meatballs with dipping. Fish such as smoked mackerel, marinated sardines and calamari. Creamy feta or grilled goat cheese with extra virgin olive oil from Kalamata and confit garlic.
Mediterranean food for 4 hearts & stars
If you are into Greek flavor constellations, feta and meatballs, Deligreco should be on the menu for the evening.
"Unquestionably the best feta cheese that has hit a plate in Denmark" That's what Politiken's food reviewer said and gave the feta and food experience 4 hearts.
Food reviewer, Søren Frank from Berlingske, has also given 4 stars and says: "The sardines were probably the best I have tasted to date".
In addition to perhaps the country's best feta and fresh sardines, Deligreco also boasts Northern Europe's largest wine list with Greek grapes.
The Greek experience
Deligreco is a combined restaurant and wine bar and has been serving wonderful Greek, Mediterranean delicacies for a number of years.
The owner, Theodores Tsigkas, has roots in Greece. In addition to his fondness for the Greek country, he has also brought the largest Greek wine list to Northern Europe. Taste grapes from the Greek archipelago. Acidic volcanic wines from Santorini and powerful red wines from the mainland.