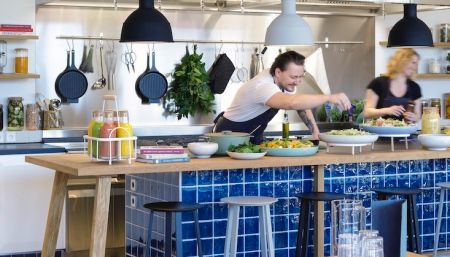 ZOKU The Living Kitchen
Social dining experience with honest world food on top of a hotel on Amager.
ZOKU The Living Kitchen
Amager
Social dining experience with honest world food on top of a hotel on Amager.
Why you should dine here:
Dine with a view at the top of a hotel
Social dining concept
World cuisine that will please everyone
A world cuisine on top
Social dining has been condemned at THE LIVING KITCHEN on top of the apartment hotel Zoku on Amager. Here the chefs make honest food that in its simplicity looks and tastes phenomenal. Although the restaurant has large spacious, bright and inviting spaces with large windows and views to the city, the restaurant oozes of atmosphere, homely cosiness, community - and is a vibrant restaurant.
Here are both long communal tables where stories can be shared over a lunch, but also room for an intimate break with your better half over a glass of wine and good, healthy food. The dishes follow the seasons and change daily depending on the day's purchased ingredients.
Discover new heights of the city
Amager has a lot of architectural edifices which often are hitten. Look up or rather look beyond and out over the city from the roof terrace at THE LIVING KITCHEN.
"Great place where the restaurant and bar are located on the top floor with a great view and the opportunity to go out on their roof terrace. The food was so delicious and the service top notch. Will definitely come again. - says a guest on Tripadvisor.
The menu is tempting
THE LIVING KITCHEN offers vegetables, fish and meat. The best ingredients are honored for brunch, lunch and dinner. Eat Nordic for the evening with hints from the Mediterranean countries to the Far East.