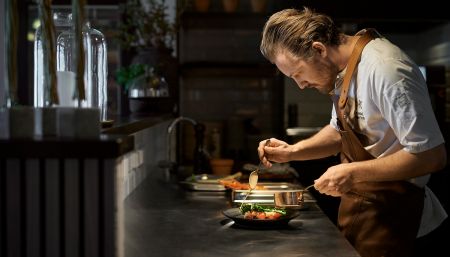 Restaurant SuRi
Local delicacies with a view of the waves.
Restaurant SuRi
Nordsjælland
Local delicacies with a view of the waves.
Why you should dine here:
You love a good steak
Modern setting with harbor views
Go on an excursion
Fresh, local and seasonal ingredients
Holbæk offers lots of nature and edible goods and if you visit Restaurant SuRi you will be tempted by an innovative menu. Here the kitchen daily gets fresh and local quality ingredients delivered from dedicated suppliers.
The chef puts well-balanced and appetizing dishes together and cares for the seasonal ingredients from the sea and the field. SuRi's menu is filled with tender and juicy cuts with seasonal garnishes, delicious delicacies and maritime delights.
A tasteful restaurant experience
Several guests agree that the taste is sublime and it spreads smiles on the lips. There are lots of guest reviews on Facebook where SuRi is honored with 4.6 stars out of 5 possible. To this it is said:
"Delicious food, fine and personal service in tasteful rooms overlooking the water"
"Really nice menu. Lovely surroundings. Worth driving for!"
"Great food at the port and good service"
"The food was well prepared, nicely presented and great taste in the various dishes"

Harbor life with informal frameworks
Let the dishes be accompanied by aromatic wines and toast over the good meal with views of harbor life, ferry boats, fishing boats and larger wooden ships.
The atmosphere is cozy and relaxed at Restaurant SuRi. The modern setting is bright and offers perhaps the city's most beautiful view which you can enjoy from the large terrace on the edge of the pier.