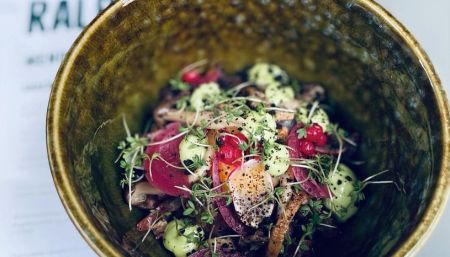 RALPHs
Well-composed concept with solid gastro and wine list excites Østerbro's locals.
RALPHs
Østerbro
Well-composed concept with solid gastro and wine list excites Østerbro's locals.
Why you should dine here:
Perfect dining experience - temptations for the gastronomes
Warm atmosphere and late modern decor
Popular among locals

Aesthetic eatery with unsurpassed wine list
Close to the 'Lille Triangel' is a local gem with pure temptations served in glasses and as appetizing plate dishes.
Owner, Ralph Marker, makes no secret of the fact that food and wine list are the key players at Ralphs'.
Traditional, French flavors with a Nordic twist are common to the menu. Ralph offers the dish of the day and a 3 course menu. Solid craftsmanship with fresh ingredients is the basis behind the blackboard dishes, which contain fish, meat and have vegetarian influences.
Start the evening with a glass of bubbly bubbles and get around the wine list. The knowledgeable waiters are helpful in matching wine and menu. The wine list has nuances from Southern Europe to the German and Austrian vineyards.

Competent, implemented concept is equal appreciation
In record time, Ralphs has received a crowd of great guest reviews on Tripadvisor and Facebook:
"Delicious food and attentive service"
"Everything is cherished and can definitely be recommended"
"… The kitchen can conjure. Fantastic service and nice, stylish decor"

Warm atmosphere
At Ralphs, you are welcomed by a welcoming staff who, at eye level, provide an atmospheric, cozy restaurant experience that you can share with friends. Sit back in the Normann Copenhagen chairs, study the wall decorations by Lars H.U.G and enjoy a well-deserved break in Østerbro.