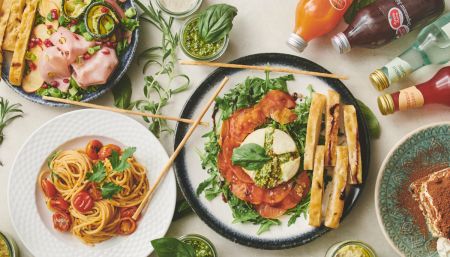 La Posata
The city's best focaccia, Italian products and family service.
La Posata
Indre By
The city's best focaccia, Italian products and family service.
Why you should dine here:
Homemade focaccia bread and Italian imported products
The best focaccia recipe in town
Great reviews
Italian family recipes
If you haven't yet visited the little Italian gem, La Posata, then hurry over for the city's best focaccia sandwich. Here, the cold-risen focaccia dough is made from a secret family recipe and baked with love.
Eat homemade focaccia sandwiches - they are freshly made and filled with Italian products such as aubergine, artichoke or gorgonzola cream and sweet tomato tapenade. Fresh vegetables, salad and e.g. grilled squash.
With homemade vinaigrettes and pistou cream. Italian sausages such as mortadella and salami from Tuscany.
Guests say:
There are great reviews for La Posata's cuisine and service on Google:
"Lovely little gem in the inner city! Delicious, homemade Italian food and super friendly staff"
"Never tasted focaccia so good! Very high quality"
"A fantastic culinary experience with all the best, well based on their secret family recipes"
"Focaccia sandwich of very high quality with good ingredients!"
Casual eatery
Drop by the small eatery and be greeted with smiles and lovely scents. La Posata provides a warm and welcoming service. The informal settings oozes of a familiar, Italian atmosphere.
The little Italian eatery and take away place is located a few steps down from street level. There's a window view to the street, the street terrace and the kitchen. You eat at high tables, on bar chairs or sit back on benches with cushions in the back.