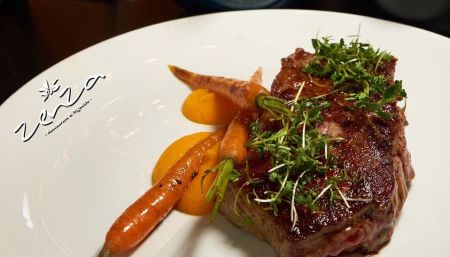 ZenZa
The perfect fusion of food, cocktails and life.
ZenZa
Midtbyen
The perfect fusion of food, cocktails and life.
Why you should dine here:
The perfect fusion of food, cocktails and life
Unique experience that does not have to cost a fortune
Vibrating frames and service
Food and cocktails in new interplay
Over the years, ZenZa has been the city's popular and festive hangout for a four-night drink with DJ and dancing out at night.
An exciting food universe now lures city guests inside. Make your way past ZenZa in the early evening hours and taste the chef's 3-course menu. Before the lighting is lowered and the dance is played again, you can enjoy the stylish, yet informal, cozy setting with candles, wine glasses and cloth napkins on the table. Be drawn to the restaurant's sensuous decor or take a look at the passing life of Åboulevarden.

Completed concept pleases
ZenZa is known for its vibrant nightlife with imaginative, culinary settings and cocktails. Journalists and guests have already intercepted the new, edible initiative which is hidden on Åboulevarden 30.
Among other things. says a guest on Facebook: "Thank you for super good food, drinks and service."
Mig&Aarhus also points out that a complete evening of food and wine is now expected, followed by a DJ and dance.
Classic dishes
Get a unique experience with quality and service in the forefront. Both chef and bartender provide a well-thought-out and detailed menu and drink menu that pleases all taste buds.
The focus is on quality ingredients and the style is rustic with Nordic notes. Eat a tender striplion with today's garnish or e.g. a juicy burger with fries and dip. There is both home-made jam, home-baked and good sauces on the menu.