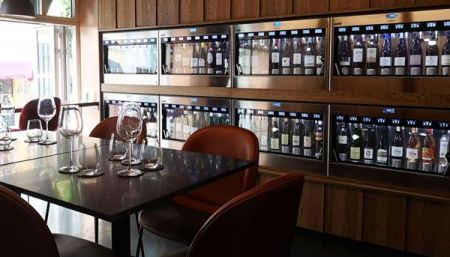 TAPS Winebar
Wine bar with new and tasty concept.
TAPS Winebar
Indre By
Wine bar with new and tasty concept.
Why you should dine here:
You love a good glass of wine
More than 80 different bottles
You decide 'which bottle' and 'how much'
Wine bar with new concept
At TAPS Winebar you have the opportunity to both taste and enjoy - taste and expand your knowledge of recognized wine districts with small tastings or sit back and enjoy one of your favorites with a full glass.
You choose and bottle your own wine in the desired quantity - you do not commit to buying half or whole bottles, but register your bottlings with a handed out wine card.

Success in 3 sizes
The city's first wine bar with self-tapping system hits with three tapping sizes: the tasting, the half glass or a whole glass. The new wine bar is announced on Facebook, among other things. with the words:
"Lovely wines - wonderful service and the most delicious tapas - good atmosphere"
"Fat concept with bottling of wines"
"Delicious, versatile wine menu with a little for everyone..you can try a little wine that you do not know much about and get your taste fine-tuned"

A tasty flavor-palette
Let yourself be tempted by the wine regions, grapes and price ranges of different countries.
There are more than 80 bottles to choose from - from the rich and powerful reds to aromatic white wines and refreshing rosés - from the Mediterranean to the overseas continents.
The bottles are stored in a machine that taps the wine with the right oxygenation and at the right tempering.