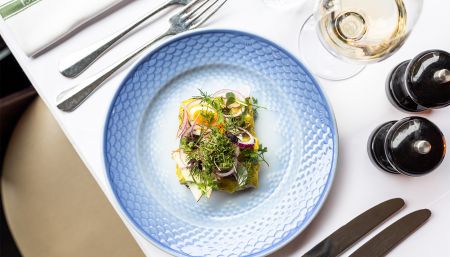 Sans Souci
Classic Danish and French restaurant in historic rooms at Frederiksberg.
Sans Souci
Frederiksberg
Classic Danish and French restaurant in historic rooms at Frederiksberg.
Why you should dine here:
Danish-French fusion cuisine
You love Danish (smørrebrød) sandwiches
French classics on the evening menu with a full-bodied wine profile
Parisian-inspired setting with soul
A true Frederiksberg classic
Sans Souci is hidden on the corner of Madvigs Allé and has more than 100 years of history.
Although the premises have undergone modernizations over the years, the owners have managed to preserve the place's original DNA - the true French atmosphere.
Sans Souci is not only a restaurant but also a wine lounge. The staff desires a great deal of knowledge for the aromatic grapes. The selection is large, and only the best of the best reaches the glass, which complements the menu and pleases the taste buds.

Guest Reviews on TripAdvisor
"Lunch which consisted of well-cooked open sandwiches of the best quality"
"Large selection of wine- for all tastes"
"An easy and clear menu with few but delicious dishes. Personal and professional service"
"The food was at a very high level"

The successful holistic experience
The flavors in the glass as well as the plate, the local ingredients and the good craftsmanship behind the serving are the focal point of Sans Souci's long-standing success.
The restaurant is known for an inviting lunch menu with delicious open sandwiches, where the evening menu merges between Danish and French classics.
The atmosphere is warm - French charm and Danish cosiness invite you to gammen around the well-covered table with tablecloth and candles. So welcome!