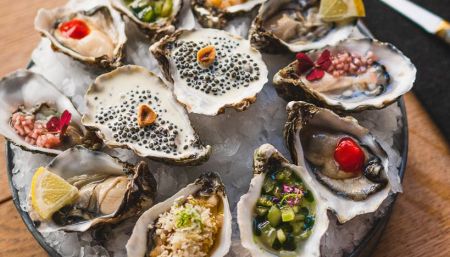 Oyster Bar
Oysters and bubbles at Michelin recommended Mes' pop-up sister-restaurant.
Oyster Bar
Indre By
Oysters and bubbles at Michelin recommended Mes' pop-up sister-restaurant.
Why you should dine here:
Pop up sister restaurant to Michelin recommended Meille
You love oysters!
Informal fine dining experience that can be paid for
The gourmet man behind yet another pop up
The name, Mads Rye Magnusson, will ring a bell for some. He's the man behind several of the city's popular restaurants including Mes and Michelin recommended Meille.
The former Noma chef's newest restaurant, Oyster Bar, has just within a year been so successful that the bar has had to expand to the floor above as well. So now you can enjoy the concept of 'affordable luxury' on two floors and eat and drink gold, oysters and champagne, at one of the country's most dedicated oyster bars.
Champagne and oyster party
In a new, modern setting, you can sit at high tables at raw tiled tables and have a complete oyster experience at Oyster Bar. With an extra floor, there is now room for more and larger companies. The atmosphere is still vibrant and there are plenty of bubbles and fresh grapes in the fridge.
Dedicated oyster bar
At Oyster Bar, the menu offers i.a. on fine Josephine oysters, beautiful Gillardeau oysters, once Le Gall, which are sweet in taste and small, French classics like Roumégous Fine from Normandy.
Oysters are of course available au naturale, but Oyster Bar's chef experiments with innovative toppings and sauces. Add spicy vinaigrettes, classic sauce mignonette with shallots, pepper and vinegar or have your oysters topped with gooseberries, fermented garnish or caviar and soft, rounded oyster cream.