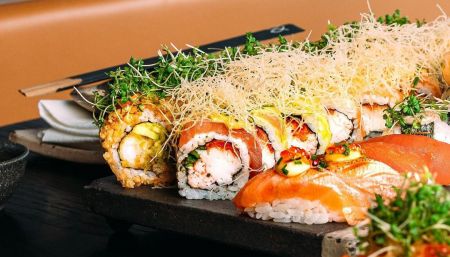 Karma Sushi Vestergade
"Aarhus' Best Sushi 2018" in an intimate setting at Vestergade.
Karma Sushi Vestergade
Midtbyen
"Aarhus' Best Sushi 2018" in an intimate setting at Vestergade.
Why you should dine here:
Sustainable fusion kitchen
Completed and tasty sushi experience
SMAG AARHUS elects 'Best Sushi 2018'
Be an experience richer
Have an intimate dining experience at Vestergade. In contrast to the large, impressive rooms in the sister restaurant at Frederiksgade, the small rooms here are more intimate and oozes off coziness.
Here, the culinary dishes are meticulous and well-crafted to ensure you a complete dining experience. Fresh-tasting sushi are served and challenge the crowd of the 'mainstream' sushi places that characterize the Danish gastronomic landscape. Karma Sushi conjures up its own flavor combinations with French and Nordic undertones, which, for example, show up in the choice of ingredients, which includes herring and lobster.

The city's best sushi
Delicate, colorful and detailed dishes are characterized by Karma Sushi, which experiments with modern and sustainable constellations. And the implemented concept is welcomed by the people of Aarhus, who declared Karma Sushi as Aarhus' Best Sushi 2018 in the magazine SMAG AARHUS.

Sustainable agenda
Karma Sushi creates good karma by caring for the environment. They are in close dialogue with the suppliers to ensure the most environmentally friendly products are bought.