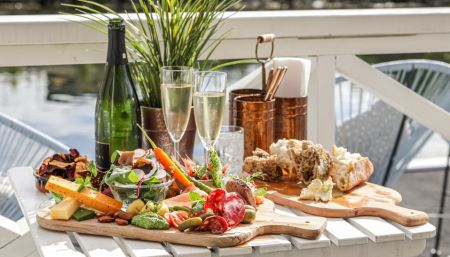 Grosen & Falkenbergs
Få maritim hygge og nordisk spise hos husbåd på Christianshavn.
Grosen & Falkenbergs
Amager
Få maritim hygge og nordisk spise hos husbåd på Christianshavn.
Why you should dine here:
Dine on board a home-built, cozy houseboat
Tapas-inspired menu
View of the Port of Copenhagen
Sustainable houseboat
Step on board and have a wonderful dining experience on the water. You are guaranteed dry feet and a nice view of the Port of Copenhagen.
The owners, Dennis Grosen and Peter Falkenberg, support the environment and for their boat-project, they used recycled materials during the renovation wich also added history to the boat.
The construction took place in Norway. To build the dining tables they used the floor from Kuglegården, an old command center.

The restaurant experience that should be experienced
In addition to a refined meal, a restaurant on rocking grounds is a rare sight and therefore entices with its location, history and atmosphere. Guests review on Facebook with the following:

"Fantastic food and a fantastic location on the water in the heart of Copenhagen"
"Cozy and delicious tapas"
"Super delicious tapas in plentiful quantities"
"Really delicious food, good service and in cozy surroundings!"

Maritime cosiness and Nordic tapas
The cuisine is based on the Nordic specialties and seasonal ingredients. Based on the well-known Spanish tapas, colorful, fragrant and appetizing boards are served with various Nordic ingredients like seafood, meat, cheeses and vegetables.
The deck invites you to relax in the sun while the atmosphere inside the restaurant is warm with its Nordic decor and various types of wood.