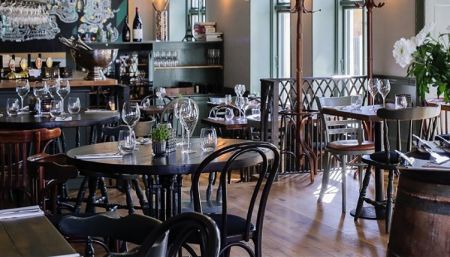 Ewalds
Cozy French bistro in the heart of Frederiksberg.
Ewalds
Frederiksberg
Cozy French bistro in the heart of Frederiksberg.
Why you should dine here:
Authentic, Parisian-inspired brasserie
You love French bistro cuisine
A little gem in the center of Frederiksberg
Owner with family footprints in the industry
Søren Ewald Fossum, the man behind Ewalds, has followed in the family's footsteps and entered the food business and opened his own place. As a young man, he learned his grandfather and the legendary, family-owned Slagter Lund.
Since then, several cooking hours and experience have come to the back catalog. Søren has among other things had apprenticeship at MASH and Le Sommelier in Bredgade and subsequently used his knives at Gorilla and Bistro Central.
Food is praised on Tripadvisor
"Always delicious small snacks on the card - good wines and terrific service. Nice restaurant. Good main courses and an appropriate wine list."
Tasteful brasserie in Frederiksberg
The good meal is recognized at Ewalds. French classics such as white wine moules fries, pork with vegetable puree and lemon meringue for dessert can be found on the menu.
At Ewalds it is understood that quality food products and their preparation are important - a steak isn't just a steak. Here the ingredients are carefully selected and prepared, the steak is cooked to perfection and the glass is filled with round, aromatic grapes or local beers from Nørrebro Bryghus.