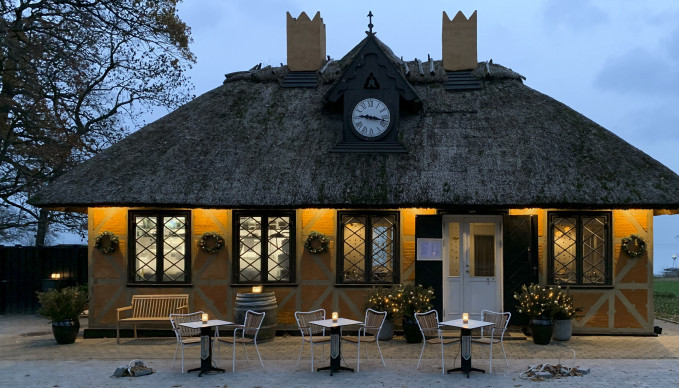 Den Gule Cottage
French-Nordic brasserie kitchen with dazzling views.
Den Gule Cottage
Storkøbenhavn
French-Nordic brasserie kitchen with dazzling views.
Why you should dine here:
Dine with a view of natural surroundings
French-Nordic fusion cuisine
Historic, charming concierge house
Charming dollhouse serving brasserie dishes
In Klampenborg, close to forest and with a view of the beach and the Sound, you will find Den Gule Cottage - a small, yellow half-timbered house that is charming and all in all reminiscent of an adorable dollhouse.
Here in beautiful surroundings, it stands for informal cosiness and classic brasserie dishes. The kitchen prepares the day's menu and delicious dishes based on the best, seasonal ingredients.

Guest reviews
"The food was delicious, simple and tasty"
"Wonderful and aesthetic food, delicious wine and fantastic good and pleasant service in beautiful and peaceful surroundings"
"Really nice food with accompanying wines"
"A unique atmosphere in the little yellow house. And the Sound in the whole backyard"

Historical framework
The Yellow Cottage was originally built as a caretaker's house back in 1844 as Klampenborgs Vandkuranstalt. Preserved is still the clock and the associated chime, which is believed to have been used to remind bathers of the clock and the last moving wagon back towards the city.
Today, The Yellow Cottage stands as a small, intimate gem with bright, Nordic and simple interiors, well located in idyllic surroundings, with present atmosphere, an exquisite menu and a fun prehistory.