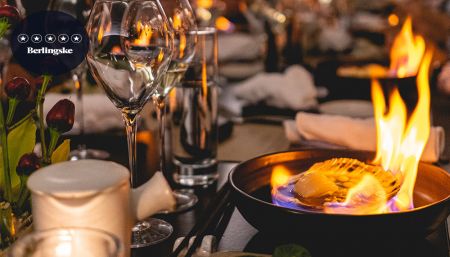 Damindra
Japanese haute cuisine - visionary gastronomy for 5 stars by AOK.
Damindra
Indre By
Japanese haute cuisine - visionary gastronomy for 5 stars by AOK.
Why you should dine here:
5 stars in AOK for 'playful modernity'
Ranked in White Guide: Very fine level
Sensory experience with Japanese Haute Cuisine
Travellers' Choice 2020 on TripAdvisor
Brilliant kitchen team
The owner, Damindra Tillekeratne, has cooking experience from restaurants in among other places: Dubai, The Caribbean, London, Canada and Melbourne.
Damindra has allied himself with star chef, Taka Nishimura (known from Michelin-recommended sushi restaurant NOBU in Milan), and together they shine in a fusion of experimental, traditional and home-made Japanese cuisine.

5 stars for Japanese gourmet food
AOK's reviewer awards Damindra with 5 stars and concludes:
"Damindra is Japanese slow food in a unified balance between playful modernity and substantial tradition, with the highest quality raw materials treated with care and precision and not least with the emphasis placed on taste"

An exclusive, Japanese gourmet experience
Damindra delivers Japanese taste hits based on a playful approach to pay homage to ancient traditions and modern Japan. It's a unique dining experience full of taste and sharp aesthetics - offering fusion sushi and innovative Japanese gourmet dishes.
The kitchen uses only the best, local ingredients during a well done and precise preparation. Damindra's ambition is to create a taste experience that cherishes all senses.