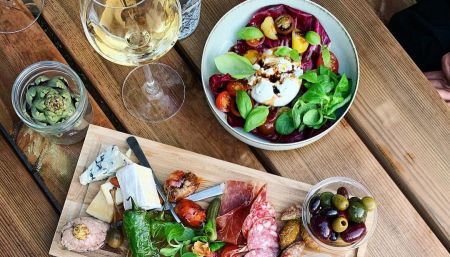 Bistro Bosch
Vesterbro hotspot with Nordic seasonal dishes, cocktails and social dining.
Bistro Bosch
Vesterbro
Vesterbro hotspot with Nordic seasonal dishes, cocktails and social dining.
Why you should dine here:
Iconic BOSCH building is a true hotspot
Nordic gastronomy for lunch and dinner
Nordic gastronomy
There are delicate open sandwiches for lunch with classic topping like herring, roast beef or eggs and hand-peeled shrimps. In the evening the kitchen turns up the stove and fire up the grill. The Nordic cuisine's notes and best seasonal ingredients are richly presented on the menu, which offers both a la carte dishes and menus for the all-night experience.
Eat e.g. danish lobster and fish from danish waters and well-cooked meat and poultry with today's purchased market garnish.
Iconic restaurant with soul
The large neon sign BOSCH lights up above the building on Halmtorvet. Here, the large, old industrial premises contain informal cosiness and have a panoramic view of Halmtorvet and the city's passing life.
Bistro Bosch is a real spreader of atmosphere, full of atmosphere and filled with laughter, smiles and good music at night. Guests on Facebook say among other things:
"Very cozy New Yorker atmosphere, definitely worth a visit before a city trip in the Meatpacking District"
"Delicious selection on the menu and great atmosphere and drinks"
Social hotspot
Centrally located, Bistro Bosch is the perfect place to meet colleagues after work or revisit family and old friends.
If you aren't into full-bodied and aromatic wines the waiter can find the bar card and provide delicious long tails, classic cocktails or a good pitcher for sharing. With the Meatpacking District in the backyard, Bistro Bosch is a desired restaurant for dining and cocktails with the opportunity to take on the nightlife if you like to show off your dancing shoes.