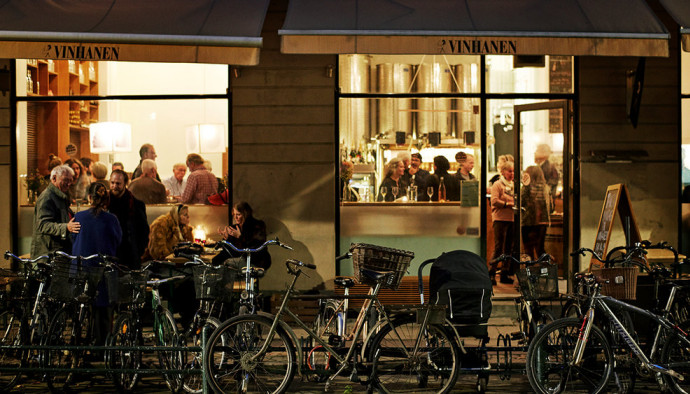 Vinhanen Nørrebro
Wine in incredible quantities at minimal prices.
Vinhanen Nørrebro
Nørrebro
Wine in incredible quantities at minimal prices.
Why you should visit this bar:
Authentic setting with design
Quality wine and low prices
Tasty wine
Vinhanen at Nørrebro, the wine is poured into the glass directly from large tanks. Not only is it a fascinating sight to see tanks with up to 900 litres of wine, but the large amounts of wine also keeps the price below what wine bar otherwise price for a glass of wine.

The myth that cheap wine is bad is proven wrong at Vinhanen. The bar is focusing on quality wine mainly form southern French, for example from the well-known areas of Cote Ventoux and Cote du Rhône.

Quality decor
The floor, made of different kinds of bricks, was designed by artist Bjørn Nørgaard. Some of the chairs are made by the artist group Superflex and Vinhanen's logo is designed by artist FOS. The bar moreover offers reusable bottles, which guests can have refilled to enjoy in the bar or take-way to enjoy at home later.

Have a little bite as well
To accompany the wine you can also taste a selection of cheeses and charcuterie with a piece of bread, as well as small snacks like nuts and olives.

The minimal prices and cosy atmosphere make Vinhanen the perfect place to start the evening with a glass of quality wine.