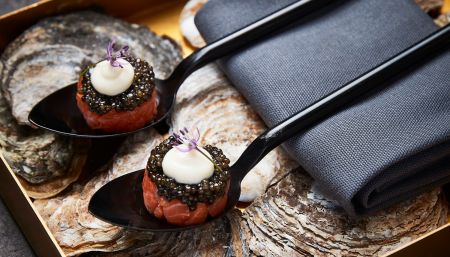 The Socialist Dinner Club
Unpretentious gastronomy experience in magnificent surroundings.
The Socialist Dinner Club
Indre By
Unpretentious gastronomy experience in magnificent surroundings.
Why you should dine here:
Modern, Nordic gastronomy
Magnificent setting at the hyped hotel, The Socialist
Vibrant atmosphere and DJ and music on Friday and Saturday nights
Bobo's Cocktail bar gets 4 hearts in Politiken
Unpretentious Nordic gastronomy
At Bobo Food Studio, they honor ecology, local ingredients in season and pay attention to taste and presentation.
The restaurant is built around four different concepts that suit every taste and occasion: Food Experience, Chef's Menu, A La Carte and The Bar. The focus of all four concepts is the sincere taste experience that nourishes the appetite and the senses - without pomp and show.
The purpose is the creativity process in the kitchen and the sublime gastronomic experience. The chefs prepare honest food and serve a wide and varied menu. The kitchen has, among other things, one of Scandinavia's largest open grills, and local meat, vegetables and lots of fresh fish and shellfish are grilled and prepared here.
Unique cocktail creations rewarded 4 hearts
In the foyer, you can enjoy a reinterpreted classic in Bobo's cocktail bar. Bar manager Ásgeir Björnsson surprises with his own, unique cocktails and reinterpreted classics.
Get the bartender's experimental delicious cocktails for today's menu. Politiken's reviewer has given 4 hearts for the surprising cocktail experience.
A modern, vibrant restaurant
From the crude transformer station of the 60s to a luxury hotel and now Bremerholmen's new modern and hyped 'meeting house' - hotel, The Socialist, which includes a lounge, bar, restaurant etc. under one and the same roof.
Restaurant Bobo Food Studio offers its guests a curated menu in magnificent surroundings. Despite meters of ceiling space, the atmosphere is vibrant. The raw concrete walls are softened by warm metals, wooden furniture and modern interiors.
On Friday and Saturday, the DJ sets the mood with live music and the bar offers a varied and innovative cocktail selection.