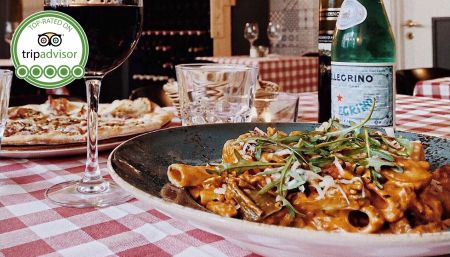 Perbacco
Sicilian family behind authentic restaurant - explosive Italian flavor.
Perbacco
Indre By
Sicilian family behind authentic restaurant - explosive Italian flavor.
Why you should dine here:
Italian family-run business
Perfect for the romantic date
You love pizza and pasta
Sicilian roots with own wholesale company
The Spatafora family from Sicily has settled in Copenhagen, and with the luggage are delicious recipes from the Bootland and the exotic volcanic island.
The taste is elementary in Italian cuisine. The menu is filled with fresh, fragrant and complex dishes to which many of the delicacies are imported from Italy through the family's own wholesale company.

Excellent restaurant experience
Guests can't get their arms down and review Perbacco for 'excellent' on TripAdvisor:
"Excellent authentic Italian food. Really delicious and authentic Italian food and wine in pleasant informal surroundings. Lots of classic Italian dishes at extremely reasonable prices"
And on Facebook, Perbacco is rated 4.9 out of 5, where Lillian recommends: "Super and friendly service, delicious and well cooked food"

Authentic Italian
Restaurant Perbacco is a family-friendly place where everyone is welcome, and for many, the Italian becomes the new place of origin. Experience the warmth, smiling and present hospitality of the staff.
The restaurant appears as a real gem with a southern vibe, with raw brick walls and lots of wine bottles.
Sit back and enjoy a well-covered table with classic Italian interiors. Buon appetito!