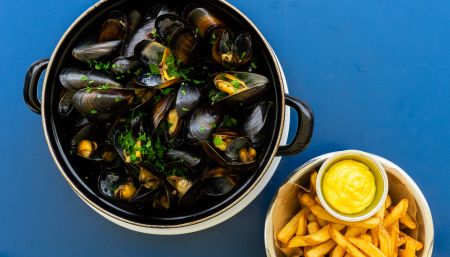 Havfruen
Maritime dining at charming bistro by the harbor of Copenhagen.
Havfruen
Indre By
Maritime dining at charming bistro by the harbor of Copenhagen.
Why you should dine her:
Certified seafood from Danish waters
Travellers' Choice 2021 on Tripadvisor
Pleases the land crab who loves history
Maritime setting at Nyhavn
Above the bar swims the mermaid or more likely sways quietly, while pirate stories are shared and the vinyl plays old acquaintances..
The Mermaid is a maritime gem and has faced changes troughout different ownerships and there too renovations. The dark building is newly polished but hides historical features and real sailor details.
Since 1937, the house has invited guests from near and far for food, and today is a charming bistro serving everything good from the sea.

Happy Guests
There are many happy guests visiting The Mermaid. At Tripadvisor you'll find reviews such as:
"Insanely delicious food at reasonable prices!"
"Very very delicious! Moules Frites in top class"
"The food is simply super delicious and the service is personal and very accommodating"

Product-conscious chef
The focal point is fresh, environmentally and product-conscious raw materials, and local raw materials and MSC and ASC certified seafood from Danish waters are captured in the network.
French oysters and lobsters from Canada are imported to the kitchen, where tasty, underwater dishes represent the Mermaid's sophisticated menu. Here you can find i.a. mussels, crabs, squid and real gold; caviar.