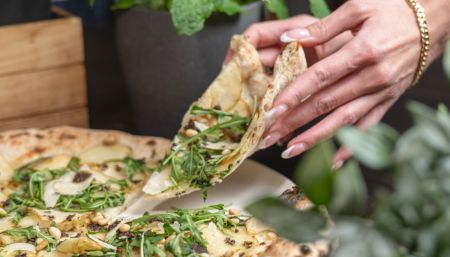 Dej Magasin
Pizza mecca at the top of Magasin - eat with a view and in a vibrant setting.
Dej Magasin
Indre By
Pizza mecca at the top of Magasin - eat with a view and in a vibrant setting.
Why you should dine here:
Irresistible pizza delights
At the top of Magasin with a view of Kongens Nytorv
Freshly baked stone oven pizzas
At the top of Magazine
Dine at the top of Magasin - perhaps before or after a good shopping trip or just enjoy dinner in a modern setting overlooking the inner city. Gather the family or meet a few friends over a pizza on the top floor of Magasin and forget for a while that you are sitting above mannequins, cash registers, sales, etc .. At DEJ, the atmosphere is both vibrant and chic, but wonderfully relaxing and family-friendly with cozy operation.
Lovely, Italian dining experience
DEJ has received a crowd of good reviews and now shares its pizza passion on both Halmtorvet and in Magasin. A couple of guests say i.a. on Facebook:
"Best pizza I have tasted. The ingredients are of a high standard and the service is always super good! We are addicted here at home!"
"NICE pizza with a lot of filling."
Personalized pizzas
Both family and friends have inspired and added names to DEJ's menu. Set e.g. your teeth into a Philippa K, Ramsbæk or the Kevin Bacon pizza.
With a penchant for Italian food culture, ingredients from the Italian regions are hand-picked and imported. In addition, the pizza dough is a craft in itself and is mixed, kneaded and shaped with passionate craftsmanship and then baked, perfectly crisp in the 500 degree hot stone oven.