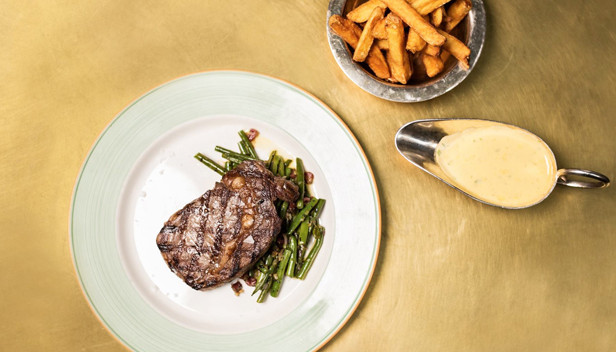 Bøf & Ost
Classic French bistro dishes at Bøf & Ost on Gråbrødretorv.
Bøf & Ost
Indre By
Classic French bistro dishes at Bøf & Ost on Gråbrødretorv.
Why you should dine here:
You love a good steak
Modern frames with cozy fireplace
Brasserie with French and Danish classics
Since 1972 the restaurant has been serving classic, French brasserie dishes of the season's best ingredients. The menu lives up to the restaurant's name and contains several cuts of beef and veal as well as a large selection of cheeses, which are carefully selected from both Danish, French and other foreign cheese manufacturers.
Dishes such as tartare fries, boeuf bearnaise and roast duck breast have found their way to the menu, but seafood - including oysters and lobster - is on the menu.
Guest rating
At Dinnerbooking Bøf & Ost's guests have reported their restaurant visits. More than 1,100 satisfied guests praise the food and the staff. The restaurant's overall rating is 5.2 stars out of 6 possible.
Danish architect behind atmospheric modernization
You will find Bøf & Ost in historic and atmospheric settings at the beautiful square, Gråbrødretorv.
In 2016, the interior was transformed in collaboration with the architect, Peter Simonsen. The whitewashed walls open up the restaurant while wall art, fire in the fireplace and dark tables and chairs combine an aesthetic whole that oozes with warmth.
At summer outdoor dining will be possible.