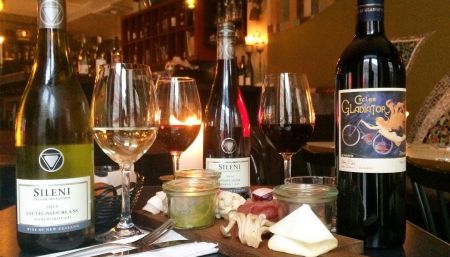 Vesterbro Vinstue
Vesterbro Vinstue - a winetastic breathing space on Istedgade.
Vesterbro Vinstue
Vesterbro
Vesterbro Vinstue - a winetastic breathing space on Istedgade.
Why you should visit this bar:
Informal wine bar, packed with goodies
You prefer quality wines over colored cocktails
The dogma-free wine bar
At Vesterbro Vinstue you do not like dogmas or manifestos. Here is both wine and food talk for connoisseurs and beginners.
The wine cellar's mission is simple: quality wines by the glass and a sublime meal inspired by Mediterranean cuisine that supports the aromas of the grapes.

Ratings along the way
The bar gets lots of recommendations on TripAdvisor:

"Service is friendly and they are really good at recommending exciting wine choices"
"… There is a lot of wine to choose from and in all price ranges"
"The atmosphere is so nice and informal"
"Really nice breathing space in Copenhagen. Delicious food for the money and wonderful wine in the glasses"
"The chef came out of the kitchen and even presented a couple of the dishes"

Symphony in the glass
As a wine lounge the place has clear references to the world of grapes and pure symphony is created in the combination of food and wine through the various aromas, textures and intense flavor nuances that the waiters like to present and guide guests through, in a relaxed and present way.
The delicious wine list is packed with rich delicacies from the south, recognized wine districts, many of which are imported by the restaurant itself.