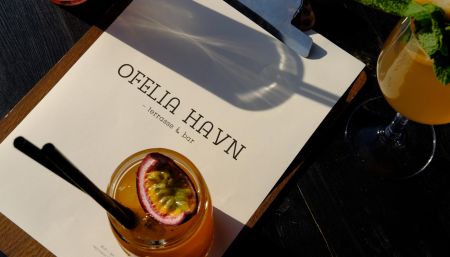 Ofelia
Cocktails and harbour view in Skuespilshuet's magnificent settings.
Ofelia
Indre By
Cocktails and harbour view in Skuespilshuet's magnificent settings.
Why you should visit this bar:
Combine wine and cocktails with a show in Skuespilhuset
Outdoor terrace with a magnificent harbor view
The maritime and cultural attraction
On the large wooden terrace in front of the magnificent Skuespilhus, Restaurant Ofelia has its own cocktail bar, Ofelia Havn. Ofelia Harbor offers life and liveliness, tasty food, refreshing cocktails and ice cold beers.
With a view of the many entrances to the Port of Copenhagen, you can enjoy the scent of the sea, Copenhagen's warm evenings and the well-composed signature cocktails.

The words of the guests
Indoors in the beautiful high-ceilinged foyer, Ofelia Restaurant serves simple and beautiful dishes made from seasonal ingredients. Ofelia is credited for both food, drinks and the maritime environment on TripAdvisor:
"Lovely surroundings"
"Excellent staff who are present and good at advising guests with both food and drink"
"Ideal place for a drink or a light meal"

Drinks and open-air entertainment
During the summer, there is a regular tango for curious beginners as well as experienced tango dancers on the terrace, where the air is filled with southern atmosphere. DJs and artists also perform regularly and create a welcoming atmosphere for a drink.
Ofelia is the perfect place to enjoy a pre-drama drink in the Playhouse with formidable views and exquisite cocktails.