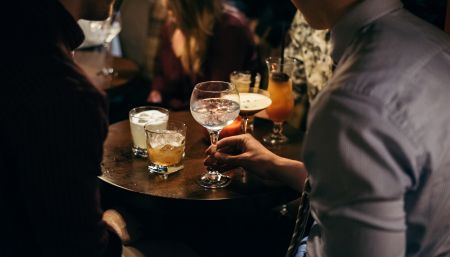 No Stress Bar
Happy cocktails and no stress at the award-winning No Stress Bar.
No Stress Bar
Indre By
Happy cocktails and no stress at the award-winning No Stress Bar.
Why you should visit this bar:
Award-winning bar concept
Bar manager with DM title
Award-winning bar concept
You'll find the Danish version of the Norwegian, award-winning bar named 'No Stress', in the City Center.
The bar were awarded as the country's best bar in the Oslo Bar Show Awards and was nominated in the category 'Best International High Volume Cocktail bar' for the largest cocktail festival in the world - Tales of the Cocktail. Now Copenhagen is enriched with its very own version of 'No Stress'.
So stop by No Stress, where you can relax from everyday life and taste high-quality freshly made cocktails.

Words along the way
On TripAdvisor guests give their recommendations with words like:
"The place is quite cozy. People of all ages come there"
"… Their drinks are worth all the money!"
"Really cool bar with lots of atmosphere and retro decor"
"Cocktails with soul"

Bar manager has Danish Championship title
In 2018 owner and bar manager Timo Mikkelsen won the Danish Championship in Classic Cocktail, but even though the CV has been awarded a title, the approach to the cocktail universe is quite unpretentious and aims for what everyone likes.
You can expect cocktails with a playful and happy approach, with fresh ingredients, homemade syrups, infusions and freshly squeezed juices.