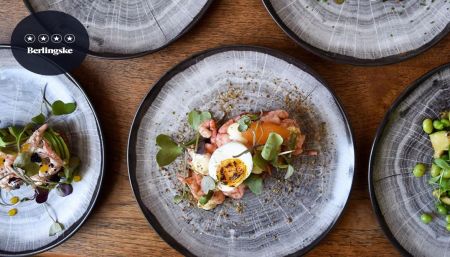 Restaurant Kompasset
Classical Danish cuisine with a modern twist in Nyhavn. 4 stars in AOK.
Restaurant Kompasset
Indre By
Classical Danish cuisine with a modern twist in Nyhavn. 4 stars in AOK.
Why you should dine here:
4 stars for classic, Danish cuisine
Elegant, historic setting with views
Danish classics with a modern, culinary twist
The words smørrebrød and Danmark undeniably belong together. At Restaurant Kompasset (The Compass), it is an honor to give the much-loved sandwich classics a modern and exotic twist.
Shrimp from the rocky island Smögen up north of Gothenburg are decorated with paprika mayo and bitter watercress. The curry herring is added to pickled pearl onions, mustard seeds, crunchy buckwheat and cilantro. Tartar on beef tenderloin garnish with aioli, black garlic and egg yolk. The plaice fillet is smeared with mango mayo, buckwheat, carrots and fennel leaves.
However, the menu offers not only flavorful sandwich experiences, but also hot dishes such as. tartlets and grilled beef fillet.

4 stars in AOK
Kompasset gets 4 beautiful stars from Berlingske's AOK:
"Restaurant Kompasset serves Nyhavn's best open sandwiches."

A restaurant with location
Restaurant Kompasset is named after its location in Nyhavn 65, where the building was previously owned by sails, flag and compass makers.
The surroundings are bright and delicious, modernized with quiet and elegant decor, to which there is a view of the well-visited and charming harbor.