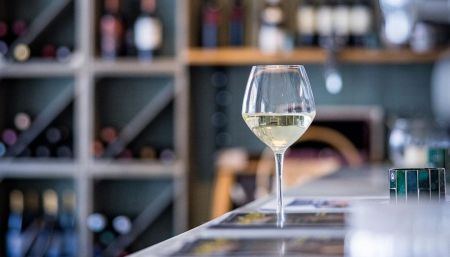 Olufs Taverna
Taverna with a rich, Italian wine list and informal bar universe gets 5 hearts in Politiken.
Olufs Taverna
Østerbro
Taverna with a rich, Italian wine list and informal bar universe gets 5 hearts in Politiken.
That's why you should choose this bar:
Cozy, modern tavern
The taste of Italian grapes
Cool, fresh white wines and strong, aromatic red wines
Cocktails for those who prefer percentages
Italians bring bouquets and delicacies to Olufsvej
The Sicilian chef, Armando Di Raffaele, has a good reputation in Olufsvej on Østerbro. His family-run restaurant L'Imperatore has been serving Italian delights for a number of years on the opposite side of this taverna.
Armando brings Italy to Olufsvej, and with his modern tavern, the best is combined in one as a wine, cocktail and dining bar. Olufs Taverna gathers friends around a good bottle or delicious, fresh and bubbly cocktails.
Full wine list
Olufs Taverna stands as a cozy dining and wine bar with a relaxed, southern and inviting atmosphere. The frames appear modern, Nordic and with clean, soft lines. But the color choice of the interior, whitewashed walls, wine barrels and wine boxes galore, in addition to the olive trees outside the tavern a Mediterranean vibe. If you open the wine list, there is no doubt - you can indulge in Italy's sweetness and rich aromas.
The tavern brings home wine from the boot country's many regions - from Sicily in the south and the 'heel' Puglia to Italy in the north: Piedmont and Tuscany. Only the best reaches the wine list. Bowl e.g. in Brunello di Montalcino, Primitivo di Manduria, Amarone or little brother Ripasso.
Space for a small bite of food
If you're hungry for deliciousness and think you need a bite to eat with your wine or Aperol cocktail, Olufs Taverna fortunately has an inviting menu. Here, the menu and seasonal dishes are dictated by the taste constellations of the south. And there are both gourmet toasts made on sourdough bread for the afternoon hours and hearty portions for the evening.