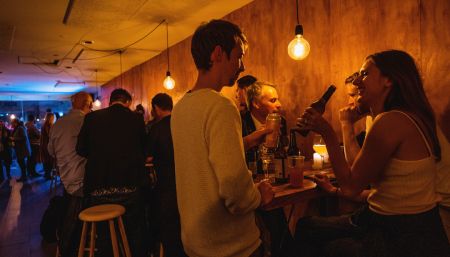 Dammbergs Ølmagasin
A Danish treasure of craft beers, complex natural wines and refreshing ciders.
Dammbergs Ølmagasin
Nørrebro
A Danish treasure of craft beers, complex natural wines and refreshing ciders.
Why you should choose this bar:
Danish special beers, natural wines, and ciders
Unique canned and draft beers
Cozy, small bar with authentic Nørrebro vibes
The dining guide, Restaurant Guru, recommends a visit
A Danish treasure trove with unique draft beers
With hearts beating for Danish special made beers, Dammbergs Ølmagasin offers a wide range of unique beers from local breweries, 6 unique taps, and canned beers.
Whether you're a big beer enthusiast or just curious to explore the different hoppy beers, Dammbergs Ølmagasin has something for every taste buds. Enjoy a classic Pilsner, an IPA, a deep Stout or perhaps a complex Saison beer.
Handpicked and local beverages
In addition to Danish draft beers, Dammbergs Ølmagasin has also a passion for natural wine and cider. They feature some of Denmark's most talented wine producers and cider houses on their menu.
Here, you get served the cream of the crop of Danish-produced beer and wine, and Google reviews speak highly of a visit:
"Great beer, cider. Cozy service and good location."
"TOP CLASS place to get a good beer or cider!"
Furthermore the dining guide Restaurant Guru includes Dammbergs Ølmagasin on the list of pubs and bars worth visiting in Denmark.
A local Nørrebro gem
Whether you're looking for new beer flavors, a complex glass of natural wine, or a refreshing cider, Dammbergs Ølmagasin is the right place to visit. Located in Nørrebro, you can toast at the high tables, sit back in the cozy sofa arrangement or sit outside and enjoy drinks and the life of Nørrebro.
The atmosphere is informal, cozy and the staff is more than willing to share their knowledge and passion for beer and natural wine.