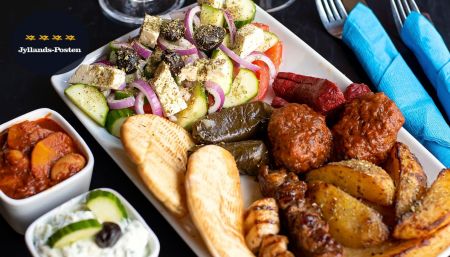 Yamas
4 stars for Vestergade's authentic, Greek taverna with traditional taste constellations.
Yamas
Midtbyen
4 stars for Vestergade's authentic, Greek taverna with traditional taste constellations.
Why you should dine here:
Traditional, Greek cuisine prepared by Greeks
You love Greece, garlic, feta and well grilled meat
4 stars in Jyllands-Posten
Greek archipelago delights
Greek cuisine offers everything from crispy salads with sun-ripened tomatoes, creamy feta, olive oil and olives to souvlaki, tzatziki, moussaka, gyros and juicy, grilled meats in delicious marinades - deliciously hungry?
Take a taste excursion in Yamas' Greek menu, filled with hearty food from old-fashioned Greek cuisine. At Yamas, you get traditional, healthy dishes - dishes that you love from your holidays in the Greek island sea.
The kitchen puts their love in the pots and with a partial look at the chefs, you can keep up with the authentic simmering dishes and freshly baked flatbreads.

Greek food for 4 stars is accelerated
Book a table today and see if you can join the many good reviews from Facebook:
"Real Greek food made from good ingredients and with the right taste."
"Super delicious food, I got Klefiko as it tasted great though the lamb was super tender."
"Excellent food, nice staff and super cozy and authentic rooms."

In addition, Jyllands-Posten's reviewer has been by and mashed himself into dishes that resulted in 4 stars.
The blue-white pearl
The small restaurant on Vestergade, stands out sharply in classic blue and white colors, and draws parallels to the small, cozy street restaurants at the Greek latitude tavernas.
The restaurant may appear spartan with its white walls, azure windows and beams with only a few images of Greek motifs, hung all around, but you sit comfortably on the colored wooden chairs with wicker seats, and the atmosphere is vibrant and warm.
In the summer, the sun-drenched backyard is a little gem to gather family and friends under the blue-and-white flag garlands and enjoy barbecues and cozy moments.