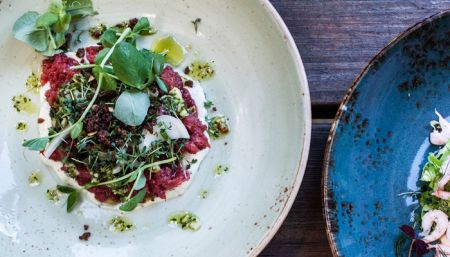 San Marco JUNIOR
Seasonal delicious dishes from the Zangrando family.
San Marco JUNIOR
Frederiksberg
Seasonal delicious dishes from the Zangrando family.
At San Marco JUNIOR at Falkoner Allé, high quality dishes are served in line with the brasserie tradition; but with a twist of Italy to be true to the history of the place and with a wine list that matches the seasonal menus. Formerly, the Italian restaurant San Marco had this address, which since opening in 1984 was the place where people went when the mood and taste buds were set to experience the traditional Italian cuisine by Italian Belisario Zangrando. After a major renovation in the summer of 2015, the place was transformed under the name of Belis Kitchen, but has now moved back to the roots and changed the name to San Marco JUNIOR, to emphasize the connection to - but also the renewal of - the original San Marco. San Marco JUNIOR is driven by Marcus's son, Belisarios. As they themselves write on the website: "New Concept, Same History - Since 1984". San Marco JUNIOR is modernized with new colors on the walls and new decor, but the experienced chef in the kitchen Dan Andrade will continue to provide a range of attractive dishes which are inspired by both Italian, but also French, Danish and international cuisine. The food will reflect the season's ingredients, and is certainly something for everyone.