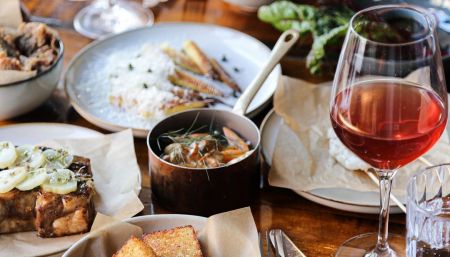 Dumpo
Former Pluto & Gorilla team is behind unique dining concept with tasty world flavors.
Dumpo
Vesterbro
Former Pluto & Gorilla team is behind unique dining concept with tasty world flavors.
Why you should dine here:
Gastronomic snackery concept with shareable dishes
Team from i.a. Gorilla, Pescatarian and Marv & Ben
All kind of world flavors
Focus on sustainability and local ingredients
Enjoy sophisticated cocktails and natural wines
Unlimited dining experience
If you visit Dumpo you'll get a unique taste experience made by a well qualified kitchen team. Their dishes cross borders - not only geographically but also sensorially. They challenge the classic flavor combinations and strive to create culinary, playful masterpieces. Local ingredients are used and their thoughts are green and sustainable without being a vegetarian restaurant.
Get a 'snackery' dining experience with the menu's delicious share-friendly dishes. Every corners of the world contribute with flavorble ingredients.
Food and service gets good criticism
Guests have reviewed on Google:
"The service is friendly and accommodating."
"Super tasty ."
"An excellent restaurant for social dining. They change the menu regularly, but you can count on it to always be excellent."
"From the moment I walked in, the atmosphere was warm and welcoming."
Vesterbro's charming snackery place
Pass by Sønder Boulevard and visit Dumpo, which strives to make every visit very special. The setting is understated but oozes atmosphere. Olive trees and benches outside invite you to cozy summer evenings in the sun, while the decor inside appears a bit of rustic coziness with lots of wood and street-art.
You eat at raw wooden tables with neat dining setup and nice window views. From the ceiling hangs greenery, and tall, detailed wall panels adorn every surface, ending in the modern bar.
Enjoy one or two of the bartender's popular cocktails or the solid list of quality wines from e.g. France, Italy or Australia.