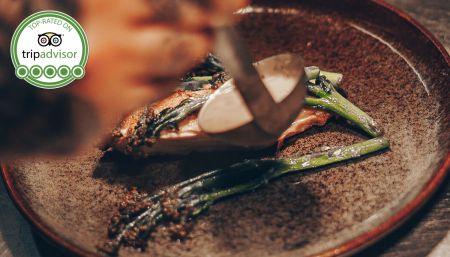 Slap Af
Nordic ingredients and French techniques in a cozy atmosphere.
Slap Af
Midtbyen
Nordic ingredients and French techniques in a cozy atmosphere.
Why you should dine here:
'A great recommendation' from Aarhus Update
Local, hand-picked ingredients
Travellers' Choice 2021 on Tripadvisor
Cozy and charming surroundings
For many years restaurant Slap Af has been a favorite meeting place for many Aarhusians. This is the result of an attentive and personal service combined with tasteful gastronomy.
Slap Af as 'Relax' is located in the charming Latin Quarter and as the name indicates, the atmosphere is laid back and cozy. In addition to the food, the bar is the focal point of the restaurant, where competent, trained bartenders pour tasty cocktails over the counter.
A recommendation from the reviewer
Aarhus Updates reviewer, Jan L. Pedersen, said that the (the menu) tasted good and the dishes were perfectly prepared: "One thing is for sure and that is that the food tasted good."
He gives his recommendation with following words: "The atmosphere is down to earth and there is a relaxed atmosphere. A great recommendation from me!"
Local ingredients
The food is made by fresh, Nordic ingredients prepared with traditional French techniques.
It is important that the dishes frame Aarhus' surrounding nature. Therefore, the ingredients are bought locally and herbs like spring onions are hand picked in nearby forests by the kitchen staff.