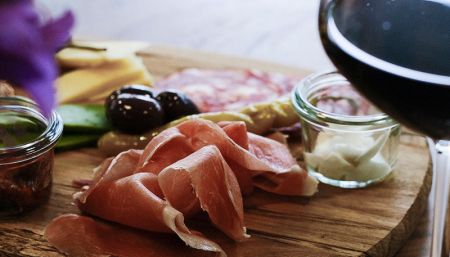 BARe VIN
Combined wine bar and shop serving tapas with Danish and international wines.
BARe VIN
Aarhus
Combined wine bar and shop serving tapas with Danish and international wines.
Why you should dine here:
Tapas with cheese and charcuterie
Danish and international wines
Informal wine guidance in informal style
Combined wine bar and shop, informal setting
Tapas delights with wine
Enjoy the wine bar's tapas board, which offers cheese, charcuterie, pate, pickles, dips, and all the bread you can eat.
For the tapas board, 3 tasting glasses are served, where you can choose between red or white wines. And if you're not particularly familiar with the world of wine, the wine bar offers guidance in informal, good style.
Satisfied and happy guests
BARe VIN's owners have a flair for creating a good atmosphere, providing good service, and knowledgeable wine guidance. Their passion for wine shines through and is appreciated by visitors, who say on Google, among other things:
"The best service you can get."
"Super cozy place, good wine, good food, and fantastic service."
"Really good tapas."
"Mega delicious place with cool events, good service, and lovely atmosphere!"
Local, good wines
BARe VIN believes that wine should be simple and focus on taste rather than names, vintages, and prestige. Be guided through their wonderful selection of organic and bio wines.
As nature and local products mean a lot to BARe VIN, the assortment offers several Danish-produced wines, but of course, also wines of international origin.
The dry wines have especially won the owners, Brita and Kristian's, taste buds. So most wines from the cool wine regions in Europe such as Austria and the Rhine area are on the shelves. Enjoy delicious wines such as a dry but fruity Cote du Rhone from Denuziere or a fresh Sancerre with good depth.