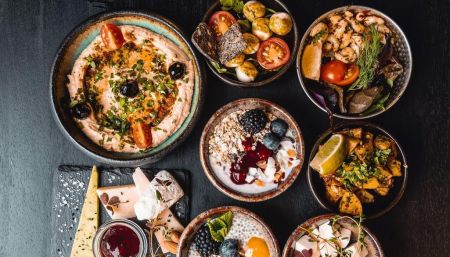 Al Meza
Atmospheric and popular brunch experience with taste twists from the exotic Middle East.
Al Meza
Aarhus
Atmospheric and popular brunch experience with taste twists from the exotic Middle East.
Why you should dine here:
You are looking for something other than just eggs and bacon - brunch with a twist
Shareable concept
With taste hints and atmosphere from the exotic Middle East
Mediterranean inspired food for tomorrow
Awaken the senses and appetite for brunch time with Mediterranean temptations, brunch classics and personal twists from the Middle East.
At Al Meza, the menu offers everything from American pancakes, scrambled eggs and chia porridge, skyr and homemade granola to the cheese plate, grilled halloumi and exotic dishes such as kibbeh meklieh and makanek.
The ingredients are fresh and there are smacks of spices and garnish. The presentation of the dishes is at least as important and is served in colorful and varied bowls and dishes.
An edible, safe hit
Al Meza spice up the Danes' classic porridge and scrambled eggs with hummus, falafel and other culinary temptations and today's spice. Twists that brunch reviews enjoy on Facebook:
"Very cozy place and good Arab atmosphere"
"Really delicious food, with a wide variety of dishes to suit all tastes!"
"Fantastic brunch. Probably the best brunch of my 44-year-old life"
"… Clear menu, affordable prices, cozy little restaurant where you sit close, the food is nicely presented and very inviting"

Shareable concept that brings family and friends together
Meze dishes are small, sharing-friendly dishes that can be enjoyed and shared around the table. A popular communal dining restaurant seen in Asia, the Middle East and the North African continent.
The family-run restaurant strives to share the Arab atmosphere and gather family and friends around the good brunch table and awaken the senses. Al Meza provides a welcoming service and a welcoming setting with Arabic inspiration.