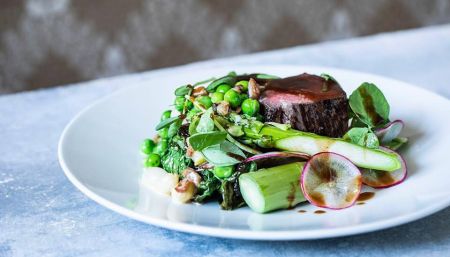 Skovmøllen
Idyllic and historic forest mill located in the Marselisborg Forests serves good Danish food.
Skovmøllen
Aarhus
Idyllic and historic forest mill located in the Marselisborg Forests serves good Danish food.
Why you should dine here:
Dine in the idyllic Marselisborg Forests
Nostalgic and classic atmosphere in a historic mill
Danish food traditions with local and nutritious ingredients
Attentive hospitality
Idyllic settings in the forest
You will find restaurant Skovmøllen in the Marselisborg Forests by the Giber River. The mill has been mentioned since 1570 while the farmhouse was built in the late 1800s. Today, the mill and the area around Moesgård are extremely popular destinations.
The old watermill is connected to the restaurant, which has preserved its old soul. Behind the crooked timber framing, the atmosphere is warm and delightfully informal, while Skovmøllen's charming details are increasingly from a bygone era.
The decor is classic and certainly cozy. There is a low ceiling with beams and wallpaper and paintings in golden frames on the walls. Several chairs are upholstered, while candlelights and white tablecloths cover the tables. Visit Skovmøllen and experience idyll as a true Morten Korch classic with good hospitality.
Danish gastronomic heritage
Enjoy a range of Danish and local specialties, including Skovmøllen's selection of open sandwiches (Danish smørrebrød), classic dishes or the weekend brunch.
In the evening the kitchen serves a 3 or 5-course menu, prepared with respect for Danish, local ingredients. For example, enjoy a langoustine ballotine with bisque or flavorful Danish beef with seasonal garnish.
A very special place
Several Aarhusians have memories of the area and love the idyll at Skovmøllen. On Google it says, among other things:
"Really cozy place, out in the woods, with a delicious lunch. The food is very tasty and with a little twist."
"When the children were small, we were there and had hot cocoa with whipped cream."
"Authentic old half-timbering and cozy atmosphere."
"Magic place."
"Super cozy and really good service."