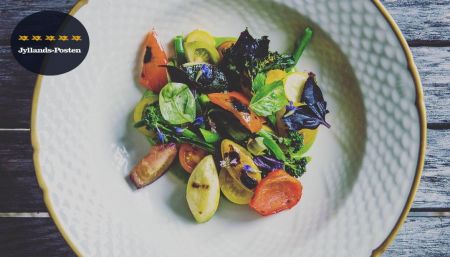 L'estragon
Charming pearl has over time been applauded for the excellent taste.
L'estragon
Midtbyen
Charming pearl has over time been applauded for the excellent taste.
Why you should dine here:
The francophile guest will be pleased
Restaurant with sustainably mindset
Travellers' Choice 2020 on TripAdvisor
Organic and francophile goods
In the heart of Aarhus' charming Latin Quarter hides a small Francophile gem of a restaurant. In a small, elongated room with tall, dark wood paneling and stylish decoration, L'estragon has been for a couple of decades. Here French gourmet food is made of the best Danish ingredients from small, local producers. And preferably of the organic kind.
In addition, sustainable thinking also applies in the wine list, which offers both organic and biodynamic grapes.
French gourmet dining
L'estragon has over time been reviewed in the media and applauded for their "Excellent food and service". On Google, guests mention:
"Lovely food and wonderful relaxed service with good recommendations"
"A must in Aarhus".
"A really wonderful evening with incredibly delicious dishes and wonderful wines".
Owner with sustainable thoughts
Owner Sisse Budtz-Jørgensen's passion for sustainability and high quality can be traced all the way from the selection of the seasonal food products, to the present service and the organic menu and wine list, which has also secured the restaurant the ecological gold mark.