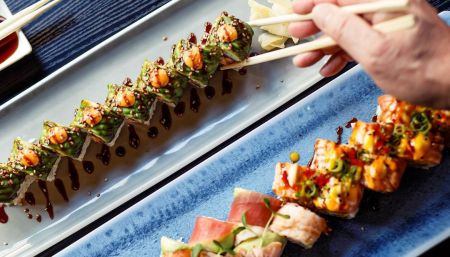 Running Ping
Delicate and freshly made sushi. Good Asian vibes and attentive service.
Running Ping
Midtbyen
Delicate and freshly made sushi. Good Asian vibes and attentive service.
Why you should dine here:
Delicate sushi and hot Asian dishes
Fresh fish, crisp greens and aromatic garnish
Perfect for gatherings of family and friends
Cozy atmosphere and friendly staff
Classic, fresh sushi
Meet the family and or gather a few friends around the table and eat delicate sushi dishes and hot, Asian dishes at the Running Ping restaurant.
Taste the menu's well-known classics: Kaburimaki, Uramaki, Nigiri and Futomaki. There is plenty of fresh fish and crisp greens in the rolls. Tempura shrimp, deep-fried chicken, surimi or fresh salmon, red tuna and tiger prawns.
With good techniques, the haps are rolled in tongs or e.g. tobiko. They are topped with flambéed tuna or salmon, avocado and aromatic garnishes such as mango and teriyaki sauce, spring onions or chili mayo.
'Super delicious' says the guest:
"Super delicious sushi and other delicious food."
"Super delicious varied sushi selection and small dishes."
"The sushi was top class, the staff were nice and very service minded and the whole experience is worth coming back for again and again."
"Pleasant, happy and smiling service."
... And more good reviews can be found i.a. on Google.
Desirable Asian eatery
With its own roots from Asia, the Ping team makes sure to pass on a bit of the cultural taste experience and atmosphere from the Asian latitudes.
The restaurant has been decorated in dark colors with some bright colors and Asian-inspired decorations. Among other things. white paper lamps hang from the ceiling, the family members are framed and hang on the wall together with colorful posters.