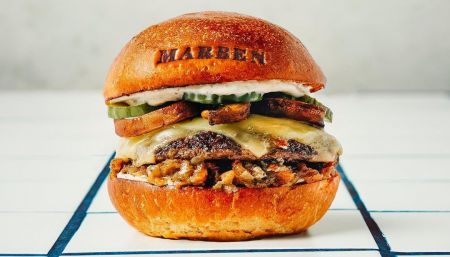 Hubb Kitchens
Forførende farligt madkoncept - lækre burgere tilberedt af Michelin erfarent team.
Hubb Kitchens
Indre By
Forførende farligt madkoncept - lækre burgere tilberedt af Michelin erfarent team.
Why you should buy take away here:
The kitchen team has Michelin experience
Mix and match flavors from different cuisines and satisfy your cravings
Popular digital fast food chain
Tasty burgers with crispy sides
Ghost kitchen with Michelin experienced chefs
Hungry after a burger? Satisfy your cravings and treat a few friends or the family with burgers and crispy fries with truffle mayo from the new take away concept, Hubb Kitchens.
Hubb Kitchens is one of the city's newest ghost kitchens, and has assembled a dream team of creative and experienced chefs in their virtual kitchen. They are all very passionated to improve the usual take away experience by giving the dishes a personal touch, add taste and top-class quality ingrediens made from scratch.
The team includes chefs from former Bistro Boheme, FAMO, LIama and top-Michelin restaurants as AOC, Alchemist and RyuGin in Tokyo.
Hubb Kitchens wants to satisfy all cravings and ranges widely with their different cuisines and a menu that, among other things, counts fresh, Japanese-inspired bowls and sandwiches, burgers with both classic flavor constellations and real Nashville-American style.
Become a burger addict with Hubb's delicious burgers. Bite into a bun and enjoy Marben's airy brioche bun smeared with Hubb's secret dressing, filled with juicy premium beef, good and matured cheddar and pickled elements.
Guests say
"They make the best burgers in town and the food is always delicious and hot" - Review from Google
"Hubb kitchen has my highest recommendation" - Review from Google
Hubb Kitchens receives an overall guest score of 9 out of a possible 10 on Wolt.