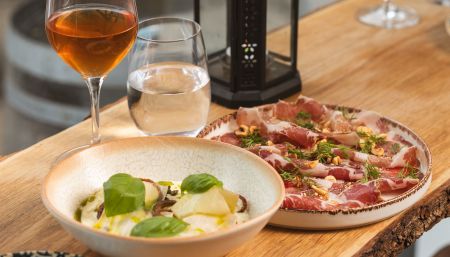 ROOTS Vinbar Sydhavn
Acclaimed sommelier distinguished by Forbes Magazine for his flair for natural and specialty wines.
ROOTS Vinbar Sydhavn
Indre By
Acclaimed sommelier distinguished by Forbes Magazine for his flair for natural and specialty wines.
Why you should choose this bar:
The owner is an acknowledged sommelier and distinguished by Forbes Magazine
Taste handpicked specialty wines from small, sustainable producers
Also buys for Copenhagen's Michelin restaurants
Sommelier acknowledged by Forbes Magazine
Owner and sommelier, Felix Chamorro, is perhaps one of Copenhagen's most prominent sommeliers. With his unique knowledge and taste for wine, the Spanish-Mexican sommelier was acknowledged by Forbes Magazine in 2021 as one of the most influential wine specialists of time.
Felix has previously been sommelier at Relæ, Terroiristen and Brace. He now has his own importing company, several wine bars and shops around the city, and is the standard-bearer for natural and specialty wines.
Drink wine like the Michelin restaurants
Roots specializes in sustainable wine imports from smaller wineries with sustainable values. Roots and Chamorro are one of the country's leading suppliers to several Copenhagen Michelin restaurants such as Kadeau and Alouette.
But you don't have to book a table at the Michelin restaurants to taste the special wines. Book a table at the wine bar and explore Roots' wine list and wine rack. You will find everything from innovative natural and orange wines from lesser-known grape varieties to wines from more well-known wine regions in Europe.
Be your own wine connoisseur
Take colleagues to a wine tasting, meet a friend or go on a wine date at Roots. There is ample opportunity to develop your connoisseur skills. Roots abounds in quality bottled from floor to ceiling. Bonus is that Roots is both a wine bar and also a wine shop.
Get expert guidance from the house sommelier, and enjoy wonderful grapes with some snacks or the house's delicious tapas board. If you like the wine, you can buy extra to take home for your own wine rack.