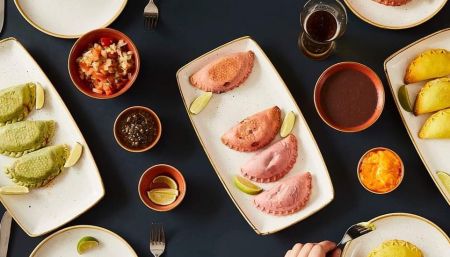 Lima
Eat Latin American specialties - crispy and shareable empanadas.
Lima
Midtbyen
Eat Latin American specialties - crispy and shareable empanadas.
Why you should dine here:
Latin American delights 'wrapped in bread'
Ecology and fresh ingredients
Popular and sharing-friendly eating
Tasty experience wrapped in bread
The Latin Quarter is the destination for Latin American culture and cuisine, and at Lima you get both taste and atmosphere for all the money.
At Lima you get traditional empanadas - wrapped bread - which is the direct translation of 'empanada' and the popular dough packages which are filled with e.g. beef, onions and chili or pulled pork with potatoes and sweet chili.

South American delicacies
By falling in love and eating their way through the colorful continent, a family decided to bring the Latin American food culture back home Denmark. Now they share their passion for South American food with the Danes, outdoors and at home.
Both dough and filling are prepared from scratch with local, fresh ingredients, organically labeled. Lima's menu tastes of traditional South America and offers both vegetarian and meat-filled empanadas.
A couple of guests say i.a. on Facebook:
"Super delicious, and good ingredients, they taste great"
"The best empanadas in Aarhus not to mention the fantastic service"
A sharing-friendly dining experience
Share a few different empanadas with friends in the informal, relaxed setting. The colors are vibrant and spartanly decorated in the small restaurant. The service is warm, meticulous and the smell of freshly baked empanadas spreads quickly in the room.