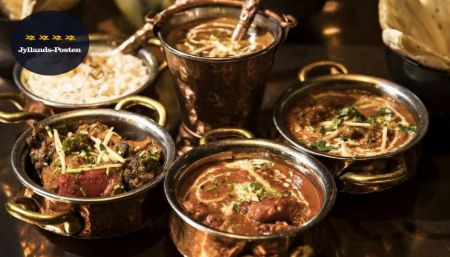 Guru
Taste and scent for India's authentic warmth.
Guru
Vesterbro
Taste and scent for India's authentic warmth.
Why you should dine here:
You love spicy food
Scandinavia's oldest Indian restaurant
Named 'Best Restaurant' by Scan Magazine
Scandinavia's first Indian restaurant
Back in 1973, Scandinavia's first Indian restaurant was established under the name Indian Taj. Today, the name is Guru, but the Indian taste is still the same with refined, traditional dishes on the menu.
Let the powerful, exotic spices overwhelm you and pull you towards distant, exotic adventures - the scent is authentic, as if it were a culinary spice market.
4 stars and rewarded as best restaurant
Guru has adapted to Scandinavian minimalism and India's enchanting warmth. Henning Larsen Architects has successfully managed to combine the two worlds, and the balance between is delicate with hot metals, detailed decorations, neat table setting and a modern lounge area with a colored cocktail card.
The guru's aesthetic, sensual impressions are rewarded as the best restaurant by the international design and lifestyle magazine Scan Magazine, which pays tribute to Scandinavian design. Jyllands-Posten is also thrilled and gives 4 stars. Furthermore, it is said on TripAdvisor:
"I have visited the restaurant three times in 2020. Guru delivers top class Indian food and the waiters are always very polite"
Traditional Indian delicacies
Guru dishes have been refined for generations, but the menu offers a wealth of traditional Indian dishes, e.g. crispy pappadams with homemade chutney and classic Chicken Tikka Masala.